Travel Happy
Thailand Writers:
Phil Cornwel-Smith, author of Very Thai
BY GREG LOWE on 28 April 2008
http://travelhappy.info/thailand/thailand-writers-phil-cornwel-smith-author-of-very-thai-everyday-popular-culture/
In the first of Travelhappy's Thailand Writers series, Philip Cornwel-Smith, author of the bestselling Very Thai, a guide to understanding everyday street life in Thailand, describes why he loves the Land of Smiles
Name
Philip Cornwel-Smith
Age
42
Nationality
British
Time in Thailand
14 years
What brought you here?
A backpacker bored with touring, I studied meditation and massage before staying in Bangkok with an ex-Time Out pal. Within four days, I was hired as founding editor of Bangkok's first city magazine, Metro. A typical Thai tale of reinvention.
What do you most love about the place?
Unpredictability. Flexibility. Vibrant streetlife. General pleasantness. Tolerant acceptance of human nature.
Where do you live in Thailand? Why did you choose to live there?
At a house opposite where I first stayed, in a close-knit central soi dubbed Sesame Street, though it can evoke Melrose Place.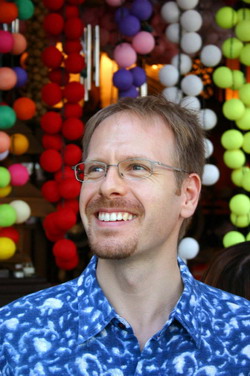 Phil Cornwel-Smith
What irks you?
Obstacles to people flourishing: impunity, censorship, monopolies, philistinism, the education system.
Thailand is the Land of Smiles. Discuss.
The plural doesn't mean uniform happiness; there are different smiles for every emotion and motive. To learn Italian you begin with gestures; here you must learn how to smile.
Cultural recommendations (ie getting over culture shock)
Learn how to smile.
Explain the passion and idea behind your latest book in 100 words
Exoticised presentations of Thai culture ill-prepare visitors for reality. Thai streetlife fascinates, but goes mostly unexplained. In 'Very Thai: Everyday Popular Culture' I identified patterns amid the chaos, investigating things like grooming and ghosts, blind bands and truck art, which intrigue outsiders, and which Thais often overlook as familiar or déclassé. Happily I hit a zeitgeist. Thais increasingly find inspiration from street culture as they develop a new pop aesthetic in movies, advertising, design. 'Very Thai' captures a transitional phase when traditions still affect how Thais express modernity. My next book spotlights the emergent creative culture.


Very Thai – Philip Cornwel-Smith
See all books by Philip Cornwel-Smith at
Amazon.co.uk | Amazon.com


Favourite hangout
A circuit of places depending on people, event or scene.
Favourite bar
Any indy bar with mis-matched furniture.
Favourite restaurant
Many. Frequent standby: Greyhound Café.
Favourite Thai getaway
Koh Samet, and festivals in Isan or Lanna.
Favourite Thai meal
Spiced herbal soups like tom yum or tom khlong, crab fried rice, stir-fried bitter gourd vines, grilled squid with seafood sauce, char-grilled pork dipped in jaew, and any laab with aromatic leaves.
Hidden gem
Community events unpublicised in English. Serendipity or sleuthing required.
Books published
Very Thai: Everyday Popular Culture (2005).
Time Out Bangkok guidebook (3 edns).
Travel Happy is a travel website
Tags: #book #culture #e-magazine #international #interviews #Thailand #tourism